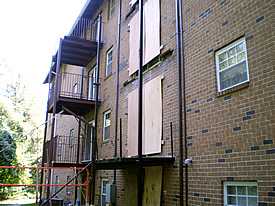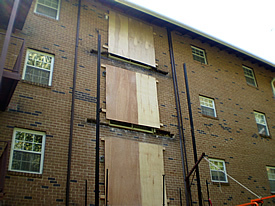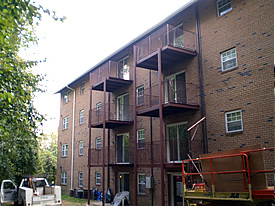 Demolishing of existing balconies.
JK & Son Decorative Iron can do new or replacement balconies as well as stairs and Landings. They are many different types of balconies that we have done like can levered, can levered with front supporting post and free standing. We offer many different types of decks on these balconies like non-skid plates, flat plate and steel framed balconies with plastic wood decks or concrete decks. When building new balconies we are able to do just that. Balconies can be placed where they were never before or in the case of a existing balconies they can be tore down and a new one be put in its place. Also with new balconies sizes can be determined by the customer, some customer may request that there new balcony be bigger or smaller then the one that was there before. All railings on balconies are custom made and meet Federal A.D.A. (American Disability Act) standards. Customer and Tenant safety is JK & Son's number one priority. During construction all safety regulations set by OSHA are met to ensure that the project does not have any accidents.
Like all of our work, stairs are custom made to fit each individual application this meaning that every stairway is different. Each stairway has its own length, stair height and its own pitch that it is laid out. We take all these factors into consideration when we make the stairs so that it flows properly. We offer non-skid stair treads, channeled risers and platforms with rails. Our rails our built with the highest quality of metals and are built to hold up to the abuse that are common in a high traffic commercial area.
Balconies and Stairs Gallery