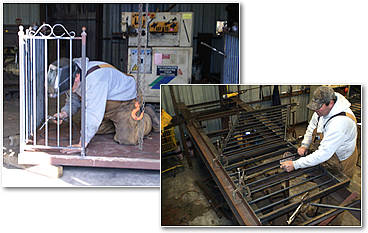 JK & Son Decorative Iron, Inc. was originally named JK Welding Services. JK Welding Services was a partnership created in 1991 by John & Karen Lyons. They are still current partners today. In 2007, JK Welding went from a partnership to a corporation, being renamed to JK & Son Decorative Iron Inc. Combining these companies history we have been serving Maryland for more than 19 years.
JK & Son Decorative Iron, Inc. is owned by three partners, John & Karen Lyons and their son Michael. John Lyons has 30 years in the Steel Industry. He started his career in the local Iron Workers Union, creating building like sky scrapers and radio towers. With John's unique skills ranging from large steel to railings this allows him to create anything that a customer can think of. John is a National Certified Welder in all positions, which allows him to meet any needs that you our customers may have.
Karen Lyons is our Office Manager. She handles our day to day office needs; she can answer any question you may have about our quality products. Michael Lyons has worked for the Company for the past ten years. He has obtained a Business Management Degree and an Accounting Degree. He has also obtained a National Certified Welding Certificate and is also a National Certified Welder in all positions and was made a full partner in 2007.
JK & Son Decorative Iron, Inc., is a family owned and operated business. Our goal is to continue to produce a quality product to the Baltimore/Washington Metropolitan Area as well as the Eastern Shore of Maryland and Delaware. We hope to continue this tradition of excellence for years to come. Thank you for your time and we look forward to serving your future needs.